I spent my weekend running the famous
Bridge Run
in SC. It is/was an uphill battle followed by a downhill jaunt through beautiful downtown Charleston. We finished the race (woohoo!) and then spent time perusing the shops on King Street. This city has unmistakable southern charm, and this is just where I found my inspiration for this week's Mid-Week Must-Haves!
King Street
This is the perfect nautical addition to your spring wardrobe,
PLUS it is big enough to be a wrap for those day trips to the beach (er, if you live in Charleston!)
P.S. When are we getting this store in Nashville????
2. Neon Yellow Wedges by JCrew
Nothings says Charleston like bright colors.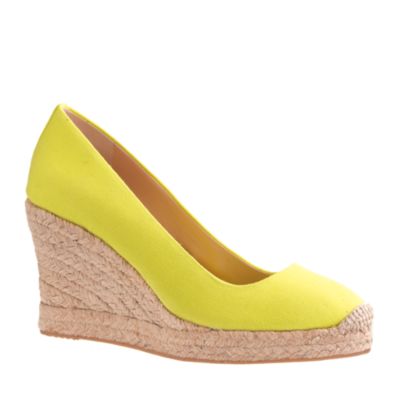 3. Brightly Colored Breakfast Nook
Perfect for enjoying those sunny South Carolina mornings.
The perfect lay-flat journal, and its bright color with gold accents will have you looking like a SC local.
5. Mark & Graham Confidential Bag
If its monogrammed, its Charleston.
**Want more of what you must have? Take a peak at other must have items
here
. **
If you haven't voted for our
Master Bedroom
, please do in the upper right corner of the blog!