I LOVE this transitional dining room. It is elegant and fresh without being pretentious. It is inviting and comfortable while maintaining a luxurious feel. This is the look I wanted to create for our dining room.
Here is HOW we created the LOOK FOR LESS!
Dilbeck Dining Room
Let's start with the table, bench, and slat-back chairs. We found this farmhouse style table on Craigslist for $380. The seller also included two additional slat back chairs (to be used in another area of the house) and two cushioned end chairs (seen below). We sold the end chairs for $100, bringing our total cost for the table, bench, and slat-back chairs to $280. Similar tables sell for upwards of $1500 like
this one
at Williams-Sonoma.
The end chairs pictured in our Designer Dining Room are custom tufted end chairs from the Interior Design company listed. I found some similar chairs at a high-end retailer in Nashville...
Even on sale, these chairs are $525 each! Blowing my budget right out of the water. So, we opted for our trusty Craigslist to bring us a deal. We found the white parsons chairs for $40 for the pair. Since we are not using a rug in our space like in the Designer Dining Room, we are going to add some texture and pattern by making Ikat fabric slipcovers for the parson's chairs like these from Ballards...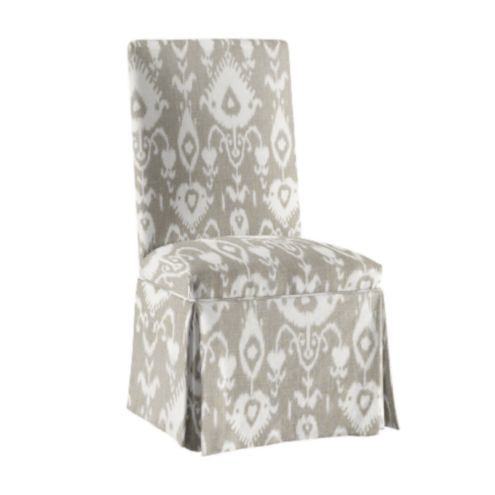 The total cost for the Ballard slipcovers is $474 (includes 15% promo code) so my plan is to purchase a similar fabric for around $20/yard and sew these with the help of my mom. Each parson's chair needs 4-5 yards of fabric plus cording and additional sewing supplies for a total of around $250 for the slipcovers.
The BEST FIND by far in this look for less journey is the light fixture. Yes, this is the exact light fixture pictured in the Designer Dining Room. You can find it
here
, too. It retails for $559.90. While looking for similar fixtures online, I found this exact fixture in an amazon warehouse for $142.78 (free shipping and no tax!!!) Meant.to.be.
Last but not least: ACCESSORIZING! I love the decorative porcelain succulents in the Designer Dining Room. I found these similar accents at Target on clearance. $12.94 each plus the silver tray (also on clearance for $15) brought the accessorizing total to around $40. I was able to find the exact Porcelain artichokes used in the Designer Dining Room on
amazon.com
for $204. I found similar trays for around $50, but they can range up to $150.
So, what does the total look for less, look like?
| | | |
| --- | --- | --- |
| Item | Designer Dining Room | Dilbeck Dining Room |
| Farmhouse Table | $1,600 | $280 |
| Light Fixture | $559.90 | $142.78 |
| Accessories | $254 | $40 |
| Upholstered End Chairs | $1,050 | $290 |
| Bench | $250 | (included in Table price) |
| Slat-Back Chairs | $400 | (included in Table price) |
| | | |
| GRAND TOTAL = | $4,114 | $753 |
THE LOOK FOR LESS,
(much less)
.